A Fast Track to Beauty Success: Angie Hinojosa
Angie Hinojosa's beauty career has taken her to some interesting places in the last year, including New York City's Hairbrained Video awards and America's Beauty Show! Below, the January 2019 Bellus Academy graduate, Beauty Changes Lives scholarship recipient and hairstylist at Headlines Salon talks about her fast track to success.
What gave you the courage and the confidence to enroll in beauty school?
My sister is a dentist, so my parents always told us we had to set big goals – including for our careers. I loved art in high school, but felt I had to follow the college path. When I told my parents I wanted to leave community college and go to "hair school" I was scared. But they were incredibly happy and supportive, as they always knew I was an "artsy" soul!
How did beauty school help you move beyond your comfort zone?
I had some instructors at Bellus Academy who never stopped pushing me to put my work out there. Katie Butler and Todd Da Silva constantly challenged me to post my work and enter competitions. At first, I had no idea how to produce a video or put together a photo shoot and I was self-conscious. But Katie and Todd stayed after me to keep posting and sharing my work. Their encouragement led me to being a Wella Next Gen artist at the Beauty Changes Lives Experience in Chicago during America's Beauty Show.
What surprised you most about beauty school?
I didn't realize how many amazing doors would be open to me once I earned a license. Beauty shows, platform artist work and editorial – this is really a big industry. I was excited to hear from Bellus educators about all of the creative and artistic work they were doing in the industry and how their careers were continuing to expand outside the classroom.
Who are some of your mentors?
Besides the educators at Bellus, I've got some great sources of inspiration at Headlines Salon, including Gayle Fulbright, the salon's owner. I started at Headlines as an extern while still in beauty school and I found other stylists were so eager to help me develop my skills. Everyone in the salon is super supportive.
How is your career continuing to evolve?
I just won a Sustainable Success Beauty Changes Lives scholarship and am taking a five-day cutting course at Vidal Sassoon Academy. I was nervous about applying for the scholarship so early in my career but Katie at Bellus Academy told me I could come back to Bellus to film my video and she gave me the confidence to apply.
How did being named a finalist for the Hairbrained Video Awards influence your career?
Bellus flew me and my instructor to New York and it was an incredible experience. And the funny part is I shot the video in a Laundromat! I was inspired by some photos I'd seen taken in a laundry. My educator, Katie, even helped me scout locations to find the spot for our video. I entered under the "styling" category which is surprising because that's what I consider my weakest area. My hairstyle video featured big victory rolls and fluffed up ends – it was so much fun and being selected among the top five really helped to bolster my confidence!
What are 3 words that describe your career today?
Mentors. Inspiration. Opportunities.
What advice do you offer to people thinking about enrolling in beauty school?
Take the chance because there are so many opportunities and paths you've never considered! Forget about the stereotypes. This business never gets old and will always present new paths for those who are bold.
What is the biggest stereotype about beauty careers?
People don't realize it's a long-term career that people get in and stay in for the long haul. The people in this industry make a good living and they take care of one another, encouraging professional development and growth. It's inclusive and supportive. Most people don't realize just how far the beauty industry can take a person in terms of career and income possibilities.
When you're not behind the chair, where will we find you?
I love my hip-hop dance class!
Where do you see yourself in 5 years?
I love the artistic and super creative side of the beauty business. I'd like to continue growing my clientele, exploring the artistic side of the industry and even working behind the camera as a hairstylist on editorial shoots.
What are your favorite sources of go-to inspiration?
Pinterest is a huge influencer. I also love watching people and looking at photos and artwork. It was a photo taken in a Laundromat that inspired by Hairbrained video!
How has beauty changed your life?
I thought I'd get my license and find a nice salon. But that was only the beginning. Beauty has opened me up to a whole lifetime of possibilities!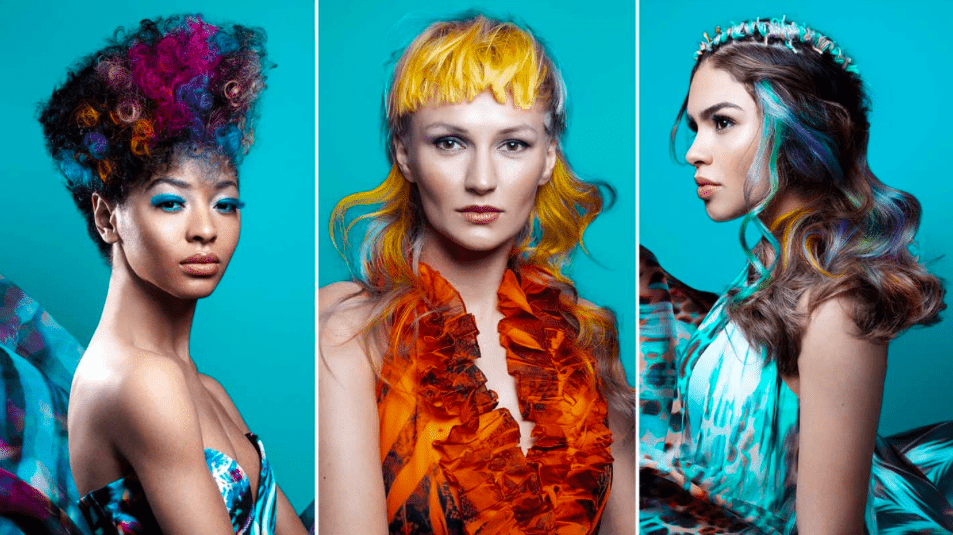 Earlier this year, Angie was mentored by Sebastian's Anthony Cole and Wella's Galini Hristovc while in a professional photoshoot produced by Estetica Magazine