What's the Difference Between Cosmetology and Esthetics?
When people are considering going to beauty school to start a new career, they usually end up asking "What's the difference between cosmetology and esthetics?" While there is some crossover between the two, both are different and distinct branches of the beauty industry. If you are thinking about going to beauty school it is important to understand what the similarities and differences are so you can choose the path that will be a better career fit for you.
If you haven't already, check out our cosmetology and esthetics programs. This will help give you a general idea of what each program entails and what to expect.
When it comes down to it, the main difference is that cosmetology is focused on hair and esthetics is focused on skin. Here's some more details on what the some of those differences entail and what some of the similarities are.
Similarities Between Cosmetology and Esthetics
Here's some things that both cosmetology and esthetics have in common:
The first similarity is obvious; both are focused on helping people look and feel more beautiful.
Both a professional cosmetologist and esthetician are required to have a license to practice. Most states require that you pass an exam to get this license and beauty school is where you can learn the things you need to know to pass this exam.
Sometimes estheticians and cosmetologists can be found working in the same place. Salons and spas are common workplaces for both types of beauty professionals.
In some cases, cosmetologists can perform some of the same services that estheticians do. This can depend on the state you live in and the school you go to. While cosmetologists can sometimes do the same things that estheticians do, it rarely goes the other way around.
At any great beauty school both esthetics and cosmetology students can get a very hands on learning experience. Rather than learning from lectures and reading text books, students get to learn by actually performing services on real clients. At Bellus students work in our salon and spa under the supervision of a licensed professional. This licensed professional is usually your educator and he or she will be there to help guide you and help you learn as you perform different services.
Between cosmetology school and esthetics school is that fact that you can get business training. Many schools will teach basic beauty industry business as part of their curriculum. At Bellus Academy, for example, we teach our students how to manage clientele, market themselves, and many other business oriented topics.
These are a few examples of the similarities between cosmetology and esthetics, but there are many more.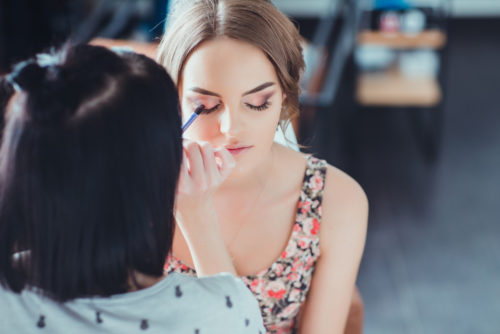 Differences Between Cosmetology and Esthetics
Each of the two beauty industry branches has a distinct main focus.
Esthetics
Skin is the main focus of esthetics. Creating healthy, beautiful, glowing skin is what estheticians are out to accomplish. How do they do this? Here are some of the things you might find estheticians doing on the daily basis:
Waxing
Facials
Microdermabrasion
Chemical peels
LED light therapy
Eyelash extensions
Makeup
Much more
Esthetics is all about skin care and you can learn many different ways to make skin shine. Esthetics school students can get a lot of exposure to different skin care and beautification techniques.
Cosmetology
Cosmetology is more focused on hair. In cosmetology school, students can learn about hair cutting, coloring and design to name a few. When you go into a salon to get your hair done, it's a licensed cosmetologist who is performing that service for you.
As a cosmetologist these are some of the services you may find yourself performing on a regular basis:
Hair styling
Haircutting
Hair coloring
Perms
Up-do's
Hair treatments
Makeup artistry
Many more
Many cosmetologists will tell you that it is an exciting and rewarding career path. If cosmetology is an exciting career prospect to you as well, check out our program. We can help you start building a new career as a cosmetologist!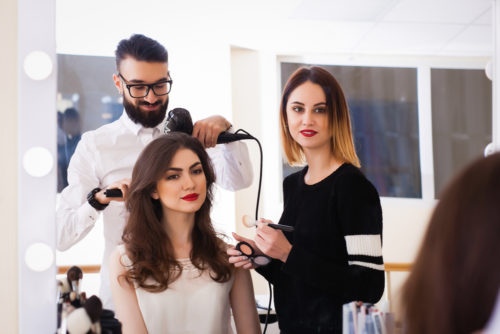 Which One Is for Me?
To answer this question check out both cosmetology and esthetics. Decide which one will most help you get your dream job. Once you know which one will help you most in finding your dream job, contact us. We can help you get started on the process of building a new career that you love!