Our extensive massage program allows you to master a range of techniques in a supportive, hands-on environment. Gain the confidence, skillset and knowledge to design a fulfilling career as a massage therapist!
We believe that a solid education must entail more than just textbooks, lectures, and exams. Our industry professional instructors ensure that our students are exposed to hands-on learning and real-life situations to help them become successful in their future careers. Through the Beck methodology system, you'll get visual, written, and interactive instruction to help you master all the essential technical skills. The program even offers a mock clinic phase, during which students can hone their skills and receive realistic on-the-job training.
Both during and after their time at Bellus Academy, our students and alumni are able to take advantage of the resources provided by our career services department. Our dedicated career team is focused on preparing you for life after the classroom. Receive state board prep, discuss job opportunities, practice your interview skills and design a resume to secure your dream job.
Programs Available
Massage Therapy
850 Hours | 6 months
Bellus Academy's Massage Therapy program is offered in a supportive, hands-on learning environment, emphasizing the art of therapeutic healing and relaxation.
Available at the following location(s)
Campus Locations
Bellus Academy offers a comprehensive massage training at our Kansas, Manhattan campus. Over the course of 840 hours, you'll study anatomy, physiology, pathology, and reflexology to explore the body, in addition to learning aromatherapy techniques to help calm the mind and relieve stress.
You'll even receive an in-depth look at nutrition, allowing you to provide helpful advice to your clients and assisting them to enhance their overall wellbeing.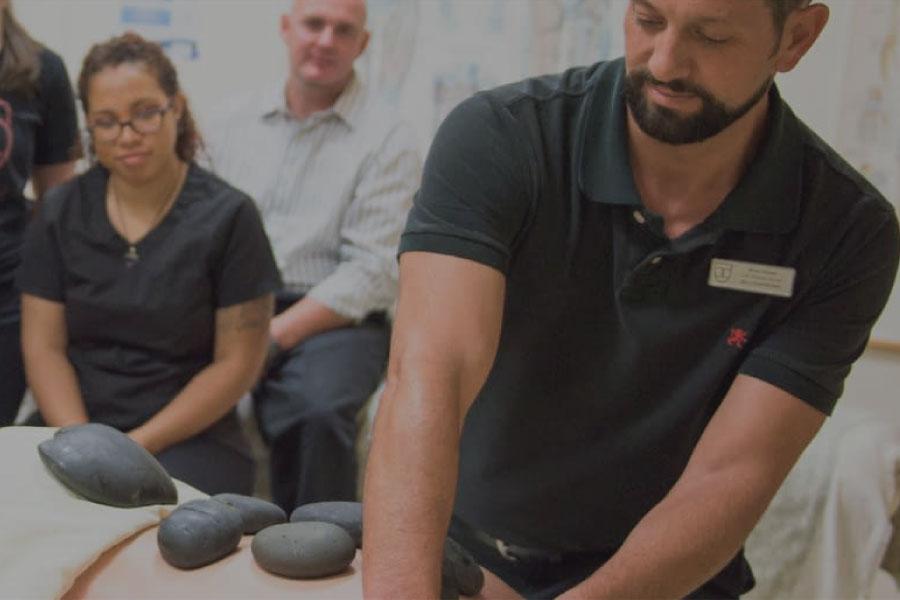 Premier Education
Discover massage techniques, such as hot stone and shiatsu, so you can be prepared to administer the proper care based on your clients' unique needs. Our curriculum includes business development training to support your entrepreneurial journey. Whether you're interested in starting your own business or landing a management role within a practice, receive training that covers sales techniques, retailing, advertising, and financial management to position you as a well-rounded candidate.
Your Future Awaits
The road to a successful career as a massage therapist begins at Bellus Academy's Manhattan, KS campus. An award-winning education provider, we not only equip you with the necessary skillset to become a highly desirable massage therapist, but we're also proud to lead the nation in job placement across the beauty industry. To learn more about our massage therapy school or other programs, contact us today. If you're ready to take the first step towards your massage therapy career, apply online now.