Spa Nail/Nail TechnologyAt Bellus Academy, our programs go beyond the basics to give you the comprehensive knowledge and experience you need to thrive in the cosmetology industry.
This spirit is exemplified in our Spa Nail and Nail Technology programs, which are offered in Chula Vista and Poway, California, and Manhattan, Kansas, respectively. Learn more about these programs to see if it is they are the right fit for your future.
Programs Available
Spa Nails - California
600 Hours | 6 months
Our Spa Nail program is the first in the nation to go beyond the basics of manicuring, adding the spa treatment training demanded by luxury salons and spas.
Available at the following location(s)
Poway, CA
Chula Vista, CA
Nail Technology - Kansas
350 Hours | 10 weeks
Our Nail Technology program offers in-depth and hands-on technical training that goes beyond the basics of manicuring.
Available at the following location(s)
Manhattan, KS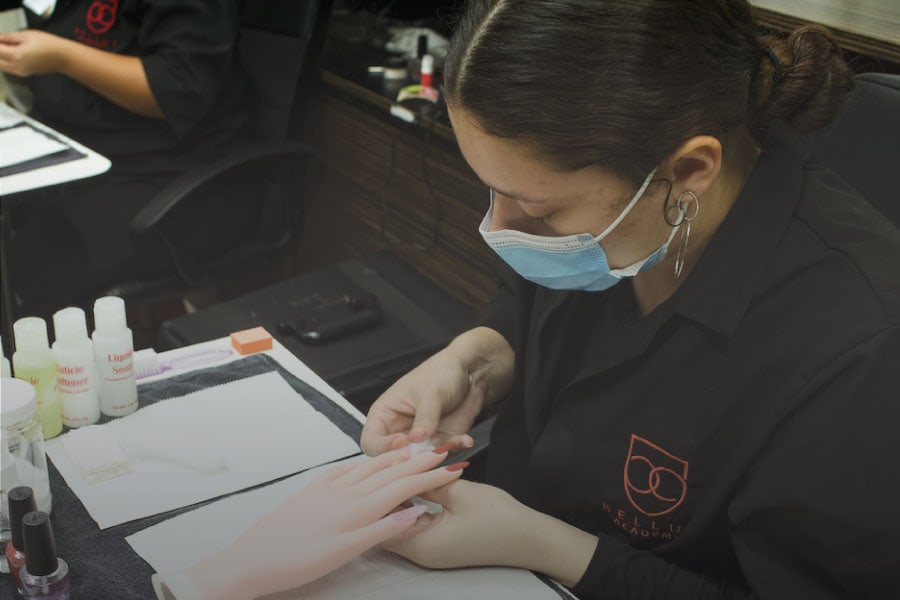 Let Your Passion Fuel Your Future
If you are interested in becoming a nail technician, the advanced programs from Bellus Academy will set you up for success with our commitment to go the extra mile for our students. To learn more about each specific location and program that we offer, browse our catalogs and brochures to get a better idea of what will be in store for you. After you have done your research and decided to advance your career with Bellus Academy, apply online to start your journey in the rewarding spa nails field of the beauty industry.
Your Future Awaits
If you dream of an exciting career where you provide beautiful nail art and relaxing spa services to clients, then take your first step towards your future and enroll at Bellus Academy.