Bellus Adds New Photo Studio
Studio B, New Addition to Bellus
Bellus Academy has installed a photo studio dubbed "Studio B" at its Poway, California campus to support photography, videography and social media production. Available to both students and alumni, the Studio B is equipped with lighting and technology to support editorial shoots, beauty tutorials and portfolio development.
The new studio also supports the B.E. Creative advanced program offered by Bellus Academy. Popular among licensed hairstylists, the course focuses on inspirational cutting and color techniques and concludes with a professional photography shoot conducted in the studio.
Academy's award-winning educators including Todd daSilva, Matt Hom and Emanuel San Martin use the studio to develop videos tutorials and trend updates. Bellus Academy students also use the studio as they learn how to market the skills they learn in the classroom. A few recent videos posted by Bellus Academy students include how to create a Dutch braid and how to design structured stiletto nails.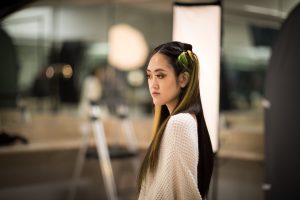 Lynelle Lynch, owner of Bellus Academy, said the Bellus Academy education team is using the studio to prepare students for competitions and industry events. "We're excited to have both an educator and student named finalists in the Wella TrendVision USA Competition," Lynch said. "The Bellus Academy studio provides a space for both educators and students to share their talent and passion for the industry through videos and social technologies."
As Bellus Academy expands its alumni program, it is also making the studio available to alumni. "This new space provides a way for alumni and educators to stay connected and we hope it will encourage graduates to pursue advanced education following their core program," said Lynch.