Everything You Need to Know About Our New Makeup Program
At Bellus Academy, we've noticed the rise of the interest in makeup. Whether it's Instagram and YouTube mega stars with millions of followers like vlogger Nikkie, (watch her incredible video on the power of makeup), or the women and men who simply want to make makeup their side hustle to serve their family and friends, we know makeup skills are in high demand.
That's why we're introducing our new program: Master Makeup Artistry*, a 602-hour program that includes an introduction to the basics of Makeup and goes well beyond that to include specialized techniques of airbrush, bridal, period, high fashion makeup and more.
This program is perfect for anyone who is looking to break into the beauty and styling industry but is not interested in doing hair, nails or spa treatments. And, financial aid is available to those who qualify.
This is a huge win for anyone who thought they couldn't afford a makeup education.
So, what's the buzz about?
According to the Bureau of Labor Statistics, makeup artists working in the United States earned an average hourly wage of more than $30; that's a salary of approximately $60,000 or higher.
As of 2015, the "top 50% of Americans" earned at least $34,000 or higher, working as a makeup artist has the capacity to earn almost thirty-thousand dollars more in one year."
The largest sector of the industry currently employing artists is the motion picture industry, with a resounding median average earning level at $80,000 in some states with major metropolitan areas such as California.
Our Master Makeup Artistry Program* provides students comprehensive training in both the fundamental theories of makeup application, and also in a variety of industry techniques.
The program begins with the fundamentals and of art and drawing and leads students through a series of sessions on airbrushing, bridal styles/techniques, special effects, photoshoot and editorial makeup.
This advanced Makeup Artistry program also helps students to develop a professional portfolio and a book of business before they graduate. And did we mention that the cost is INCLUDED in the cost of attendance?
About Makeup Designory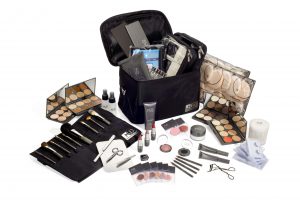 A professional is only as good as the tools that they use for their work. Bellus recognizes the need for students to learn using tools and products that they will rely on as professionals; and in launching this new master program have chosen to partner with a brand trusted by beauty professionals nation-wide.
For more than a decade, Makeup Designory (MUD) has provided a quality line of cosmetic products for students and professionals in the industry alike.
With ethical, yet rigorous testing and a fierce dedication to those who use their products; MUD promises long-lasting wear and continued satisfaction.
"Just simple, smart, versatile makeup" – Makeup Designory
Find out exactly what you're getting in the Bellus Academy MUD professional makeup kit, here.
The Student Value
Aside from the cost of this extensive kit being included in the cost of attendance, the value for students extends long beyond graduation.
This kit is salon-ready, and will last students well into their professional careers which is a huge benefit to those who want to work freelance or who wish to rent a booth in a salon.
Learning how to do a job well is only half of the puzzle. Maintaining the tools that you need to work is the other half. Bellus makes the latter much easier for our graduates.
Get more information about this awesome new program, and enroll today! Space is limited, don't miss out!
Get More At Bellus
Bellus Academy doesn't provide the average cosmetology or esthetics education, instead we teach a curriculum that trains our students to be independent entrepreneurs and beauty professionals simultaneously.
With instructors who are still active in the industry and advancing their own crafts, our students are afforded the time and attention they need to grow academically and professionally.
At Bellus, we strive to provide a foundation for student success beyond the time spent in our program.
Call or stop by the location nearest you to speak with an admissions representative.
888.990.7094
* For more information about our graduation rates, the median debt of students who have completed the program, and other important information, please visit our website at www.bellusacademy.edu/about/consumer-information-disclosures