How to Become a Cosmetologist in Kansas
Cosmetology is projected to grow faster than average over the next few years according to the Bureau of Labor Statistics. This is good news for those who have creative talent and a passion for helping others. Going to school to become a cosmetologist and working in the industry both can be exciting and rewarding, which is a big reason why so many people are choosing it as a career.
So, how do you become a cosmetologist? There are some steps that aspiring cosmetologists will have to take in order to become licensed. The steps to becoming a cosmetologist are slightly different in each state. To become a cosmetologist in Kansas you will have to:
Go to School
Most, if not all, states require that, before you become a licensed cosmetologist, you attend a school. Each state has its own required amount of hours that you need to spend in school before getting your license. In Kansas 1500 hours are required. During that time you can gain knowledge and experience to help you become a beauty professional.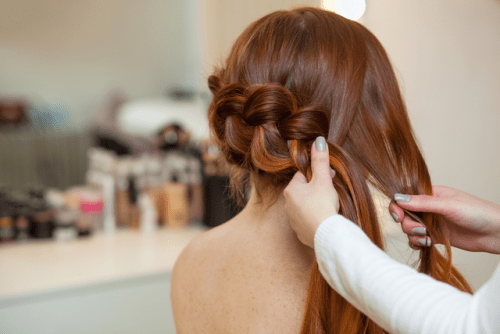 Knowledge
Some of the topics you will focus on during your time in cosmetology school may include:
Cutting hair
Styling hair
Coloring hair
Creating a portfolio
Customer service
Salon business
Much more
Experience
Another important aspect of your learning in cosmetology school is the practical experience that you can get. Once you have some foundational knowledge on the important aspects of cosmetology, you can get hands on experience by working in a student salon. You can cut, color and style hair for actual clients who come into the salon. By practicing your craft in school, under the supervision of licensed instructors, you can gain some much needed practice that can help you when you start searching for jobs later on.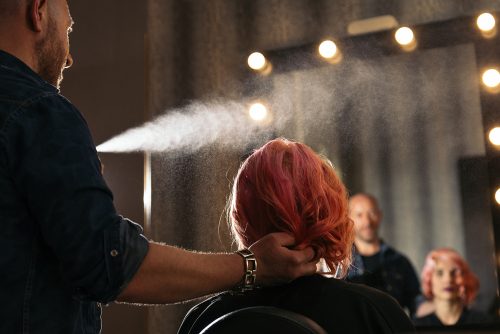 Take the Required Exams
One of the objectives of cosmetology school is to help prepare you for the exams that you have to take to get your cosmetology license. In Kansas there are two exams that you will have to pass to get your cosmetology license.
The Written Exam
The time allowed to finish the written exam is 2 hours. It is a multiple choice test that covers the following topics:
Kansas state general law, rules and regulations
Safety, sanitation and infection control
Implements, tools and equipment
Product knowledge and chemistry
Anatomy and physiology
Hair care and services
Nail care and services
Skin care and services
The Practical Exam
This exam is given a bit differently than the written exam. During the practical exam, you will show off the skills you've been perfecting in cosmetology schools. For this test, you will be required to bring a mannequin head to demonstrate your skills. You must perform the following techniques and services:
Thermal curling
A haircut
Chemical wave
Facial services
Hair coloring
Lightening
Chemical relaxer services
At Bellus Academy, our courses are designed to help students gain the skills they need to sit for the exams. We also give our students access to our amazing student salon to hone their skills, get valuable experience and to prepare for the exams.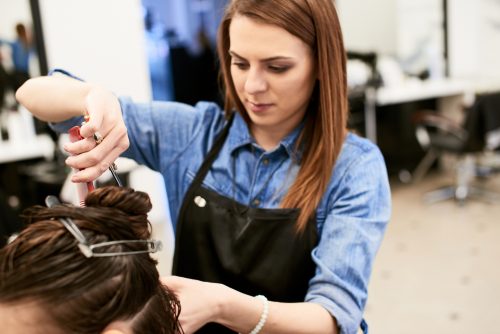 Apply for Your License
The next step after passing the written and practical exams is to apply for your license. To do this you will need to log into your account at www.cosmetologykansas.com and print the practitioner application. Fill it out and send it in with the required fees. The state board will review your application and exam scores then issue your license if everything is in order.
Live the Dream
Once your license is issued, it's time to find a job that you love in the industry that you have been dreaming of!
Still Have Questions?
Does the licensing process seem a little complex? Don't worry. We can help you. Start by contacting us and getting enrolled in the cosmetology program at Bellus Academy in Manhattan, Kansas. Once it's time for you to sign up for the exams and apply for your cosmetology license, we will help guide you through the process.
Want to become a cosmetologist? Now is the time to begin your training to become a beauty professional. Let's get started!