How Master Makeup Artistry Can Open Career Doors
With Halloween just around the corner, everyone is putting together their costumes to go over the top and beat last year's looks. But advanced makeup artistry isn't just used during Halloween, there are many career opportunities for someone who has mastered the skills.
Special effects makeup artists earn the most in the state of California, with their average pay is around $72,290 a year, according to recruiter.com. The national average varies, with the high end earning around $60,000 a year, also from recruiter.com, but have the potential to make more based on skills and experience.
An education in Master Makeup Artistry from Bellus Academy could give you the potential to have one of these amazing careers:
1. T.V. makeup artist:
You've seen The Walking Dead, right? AMC's hit show has been helping the special effects industry skyrocket. On the set, special effects (FX for short) artists work for hours creating the perfect zombified look on extras. They work with the talented Greg Nicotero, a highly-skilled special FX designer and Co-Executive Producer on the show. These artists are specifically trained to make everything near perfect, as the camera can magnify mistakes.
But TV makeup artists don't all work with special effects. In fact, most of the time when you see an actors or actresses face on screen, they are wearing makeup! Even newscasters and anchors wear makeup. The bright lights and cameras on set can wash out any details on a person's face, so having makeup artists on hand is important.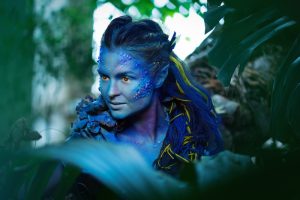 2. Movie makeup artist:
One of the most well-known places for makeup and special effects are the movies. Good ol' Hollywood can make anyone into any magical creature they want, or even modify their face to the point that they are unrecognizable! And all of that is done by the magic of makeup and film editing.
Some popular movies that utilized makeup magic are:
Hellboy: Oh yeah. The transformation from Ron Perlman to Hellboy was brought to you by makeup.
How the Grinch Stole Christmas: He talks like Jim Carrey, but he definitely doesn't look like him! The Grinch's face was created using makeup.
X-Men: The superhero we are focusing on is the beautiful and kind of terrifying Mystique. Special FX makeup transformed Rebecca Romijn into the blue lady.
Pan's Labyrinth: We know, this movie freaked us out a little bit. And it's all because of makeup. Fauno was by far the coolest and scariest character. Thank special FX for your nightmares.
3. Haunted house makeup artist:
If you are in the middle of working on your makeup artists program here at Bellus, you should apply for a seasonal job doing what you love! Haunted houses in the area hire seasonal employees to help make their house the scariest on the block. Check your local haunted houses for open positions!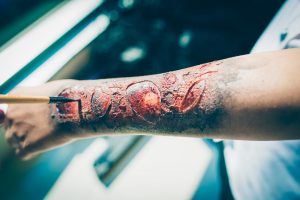 4. Freelance makeup artist:
The greatest part of doing freelance makeup is the schedule! If you are looking to work on your own time doing what you love, freelance is for you! You can do everything from wedding makeup to special FX! Many clients hire makeup artists to come to their wedding to make up the wedding party. Other clients will hire the best special FX artist in their area to do their makeup for Halloween parties.
The options for freelance artists are basically limitless.
5. Theatre makeup artist:
While you may not think of theatre makeup as a popular job, they can make an average of $25 an hour! The theatre realm is almost always looking for talented makeup artists.
Theatre is often very fast-paced. You are working with actors and actresses again and again. Between costume and scene changes, you have to be on your toes, ready to create the next look! Unlike movies, plays and musicals all happen in one day.
Gaining experience in this area can also make your resume stronger. This background can lead you into TV and movie jobs later on.
Are you interested in getting a head start in one of these great careers? Visit our makeup artist program page for more information, or contact one of our admissions reps today!