What Does an Esthetician Do?
An esthetician provides services focused on skin care including, but not limited to, skin treatments, facials, makeup application and hair removal. However, their jobs can be so much more! If you want to learn more about the ins and outs of being an esthetician, read more below.
Well, What is an Esthetician?
You may have heard the word cosmetologist before, but does it mean the same thing as esthetician? The answer is no! An esthetician is someone who attends a separate esthetics program, and is licensed to provide the following:
Specific skin condition treatments
Custom skin care routine recommendations
Skin mapping
Facials
Hair removal
Exfoliation
Skin peels
They can also become certified to provide additional services like lash extensions or microdermabrasion in many states.
You're probably wondering how that differs from a cosmetologist. A cosmetologist does learn skin care services, but on a very basic level. Estheticians learn more intense facials and a variety of hair removal techniques vs the basic waxing cosmetologists do. Cosmetologists often focus more on hair cutting, coloring and design. If you want to dive deeply into the science behind skin care and the art of makeup, esthetics might be perfect for you!
Where Do They Work?
Estheticians can be found in a variety of places! This career is often touted as one with amazing flexibility and opportunity. Here are just a few examples of where you might find an esthetician:
Spas
Salons
Freelancing
TV/Movie Sets
Editorial Sets
Med Spas
Cruise Ships
Resorts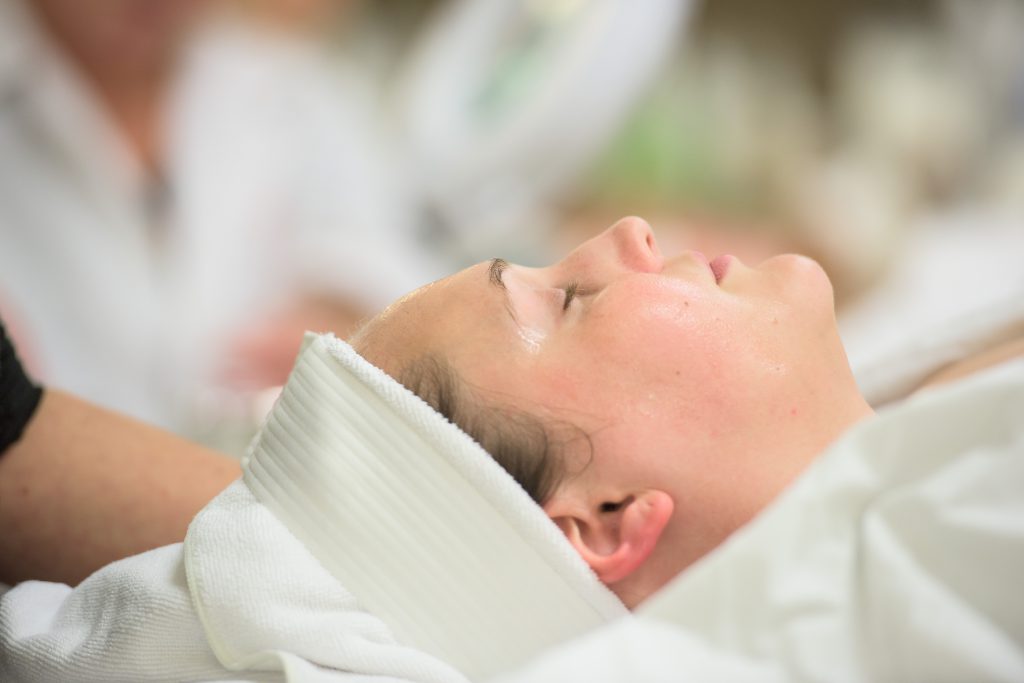 Why Would You Want to be an Esthetician?
If you're unsure whether esthetics is something you're interested in, consider the following questions:
Do you love working with others?
Do you have passion for making a difference?
Do you enjoy art?
Do you enjoy science?
Do you want to work with your hands?
Are you independent and capable of being well organized?
Do you want a future with flexibility?
If you said yes to any of these questions, esthetics might be a perfect fit for you! There are so many reasons why you would want to think about pursuing a career in esthetics. This career can offer you the opportunity to make a difference in the lives of others by helping them boost their self-confidence or make an impression on people around the world by working in TV, film or editorial settings.
How to Become an Esthetician?
Becoming an esthetician takes dedication, education, testing and licensure through your state. To start off, you must get an education from a trustworthy institution. Here at Bellus Academy, we offer accredited esthetics programs in Poway and and El Cajon, CA and in Manhattan, KS. Our program covers a variety of skills and techniques that are used by skin care professionals!
Not only can you learn basic esthetics, but we offer courses with additional hours and curriculum that cover makeup artistry, luxury spa techniques and medi spa skills, too! Bellus takes care of their family, from enrollment to graduation and beyond into their futures. We can help you become prepared to sit for the state board exam and even prep you for interviews!
Contact Bellus Academy!
Want to start your future in skin care with Bellus Academy? We want to hear from you. Contact us today to learn more about enrolling in one of our programs!
Want to Read More About Esthetics?
Don't miss out on the latest skin care or makeup content!
Read: "What's the Difference Between Cosmetology and Esthetics?"
Read: "How Long is Esthetician School in California?"
Read: "Is Makeup an Art?"
Read: "How to Become a Medi Spa Professional"