Jazmuyn West
Jazmuyn West graduated March 2014 from our Esthetics 102 program in Manhattan, Kansas. This is her story.
Jazmuyn West's Story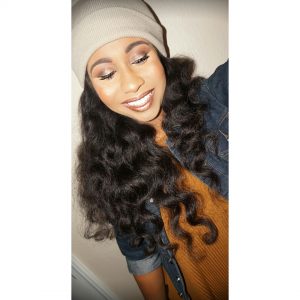 I began my journey at Bellus Academy as a working makeup artist looking for a certification and to learn more. My husband had just deployed to Afghanistan, I was new to Kansas, and I was determined to occupy my time and make friends while he was gone.
I chose Esthetics simply because skin care went hand-in-hand with makeup. I immediately fell in love with the instructor Amanda and wanted to soak up every ounce of knowledge that she had to give plus more.
I had found a passion in not only makeup, but unexpectedly skincare and waxing. I surprised myself at the natural talent I had all along. Once I got onto the spa floor it was very clear to me by the way my books filled that clients felt the same way.
At the time I was enrolled at Bellus, the Design Team had just formed and I was one of the original members. I remember being so excited to get the opportunity to be apart of something so awesome. We got to participate in Kansas City Fashion Week and made such a lasting impact!
It was definitely a pivotal moment in my career, specifically as our team worked with a designer by the name of Ola Hawatmeh whom I got the pleasure of doing makeup for personally. I have remained in contact with her throughout my career and was even invited to work alongside her for New York Fashion Week as her makeup artist!
I will always have Bellus Academy to thank for that opportunity specifically. Following my graduation at Bellus, my career took off!
I went to work for His and Her Salon in Topeka, KS as an esthetician and makeup artist before relocating. I then went to work for Mac Cosmetics in Orlando, Fl as a permanent artist for a year before deciding to branch out on my own and begin my own freelancing makeup company servicing brides and special events in the Orlando area. I now am the lead waxer at Waxing The City in Orlando.
I definitely attribute my success to Bellus. I talk to my clients all the time about the excellent training I was provided with and how grateful I am. It has definitely provided me with the skills needed to excel in this field at a much quicker rate than some of my peers, and for that I could never say thank you enough!
Bellus helped me answer the question I had been asking myself since I graduated high school … What did I want to do with the rest of my life?