Temale Johnson
Temale Johnson graduated February 2017 from our Massage Therapy program in Manhattan, Kansas. This is his story.
Temale Johnson's Story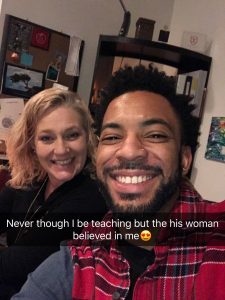 I was military police for six years. I suffered an injury to my sciatic and at the time I needed to evaluate my future plans.
My father-in-law was living with my wife and I, and he has fibromyalgia. Whenever he had a flair up, I would massage the area and that gave him relief for 3-5 days.
From that moment I dedicated everything to massage. After I graduated, I worked full time, seeing 30-40 clients a week.
I then suffered another injury. This time I was diagnosed with Sicario -itis. I spoke with Mrs. Trina, the educator at Bellus in Manhattan, and he spoke with Mr. Yocum, the school director, and since physical therapy, I've been the night instructor for massage therapy at Bellus Academy.
I love every second of teaching. If it wasn't for the amazing leadership, I don't believe I would've taken that step into teaching, but they believed in me and from that moment it's all been a blessing.