So, You Want to Become A Barber? Here's how!
Craftmanship. Artistry. Community. All of these words might be part of a response to the question, "What is barbering?" None of these terms on their own captures the blend of skill, smarts and savvy that make up the barbering industry today. Ever wondered about how to become a barber? Below, we'll look at this ever-evolving career path. Let's take a look at just what is barbering to explore potential career paths and what's involved in becoming a barber.
A Brief History of Barbering
The roots of barbering are intertwined with history and date back to ancient times. The word "barber" is derived from the Latin root word barba, meaning beard. Warfare may have actually given the barber's craft a warrior's advantage considering that around 300 B.C Alexander the Great required his soldiers to be clean shaven. His rationale? Their opponents could not grab their beard during hand-to-hand fighting!
As civilization evolved, so did the barbershop. Barbering experienced a bit of a renaissance between the late 19th century and first half of the 20th century. Many men stopped in the neighborhood barbershop almost every day for a warm lather and shave, or a haircut or beard trim. Often the barbershop was the place for conversations. Gentlemen convened to catch up on neighborhood news, talk about politics or sports and sometimes just read the newspaper.
Barber Influence
Like every aspect of American life, the nation's barbershops were influenced by social justice and liberation movements in the 1960s, including civil rights. The Oscar-nominated film "The Barber of Birmingham: Foot Soldier of the Civil Rights Movement" follows the tale of James Armstrong, a barber whose shop served as a hub for the civil rights movement. By the start of the 1970s, America's barber shops were increasingly integrated – even as long hair and Afros became the styles of the day.
In the 21st century, barbering continues to evolve in ways that reflect the culture, diversity and zeitgeist of the current moment. The rise of the lady barber reflects how women have claimed their own space behind the barbering chair. And the popularity of barbering competitions demonstrates that when it comes to the battle of the barbers, achieving celebrity status requires more than the ability to buzz, clip and snip.
Career Snapshot of Becoming a Barber
The Bureau of Labor Statistics (BLS) reports that the outlook for barbers is positive. The BLS projects that careers for barbers and hairstylists will increase 10% between 2020 and 2030. This is a faster-than-average increase compared to other jobs. Part of this increase in demand can be explained by the fact that hair will always grow. Grooming services will always be in demand. While artificial intelligence and outsourcing threaten the viability of some careers, barbering remains a career that is resistant to outsourcing to call centers or technology.
Wondering how to become a barber and what's involved?
Describing the barbering career, the BLS notes the position typically allows for flexible work schedules. The schedule is typically dictated by the premise. A chain of barbering stations may offer services from 9 am to 9 pm, six or even seven days a week, whereas a boutique salon or sole proprietorship may have highly tailored hours.
Barbering is a great career for gregarious types as banter is part of the barbershop environment. A barbershop welcomes people across the age spectrum – from the infant getting its first haircut to a senior citizen getting ready for a 100th birthday celebration.
8 Qualities that Help Barbers Shine
Like every career, barbers typically draw on some signature skills that support their craft. All of these skills are developed through education and plenty of practice. Common skills include:
Dexterity: Coordination and the ability to handle instruments and hair at the same time are important when completing precision haircuts and grooming techniques.
Endurance: The ability to stay on one's feet for many hours requires physical stamina.
Customer mindset: Thinking "customer-first" helps generate loyal, repeat customers.
Good listening: The ability to understand a client's desired look helps ensure the service meets the customer's expectation.
Critical eye: The best barbers approach their craft with an eye toward always improving.
Continuous learning: Barbering school is only the beginning. The most successful barbers continually attend industry shows, participating in competitions and attending digital and in-person learning.
Discipline: Whether it's staying on schedule or continually marketing their business, top barbers are disciplined about their craft. This attribute may explain why so many barbers previously served in the community.
Generosity: Barbers give back to their community. Whether it's donating back-to-school haircuts, or empowering job seekers to look their best for an interview. Barbers generously give of their craft to support others in the community.
How to Become A Barber
Barbering offers unlimited pathways for personal satisfaction and career growth, but the journey toward a barbering career begins with education. Beyond teaching technique, barbering programs should teach the business skills that stand behind successful barbers. From social media and marketing to financial literacy and business management basics, barbers need to understand the science, art, and business of their calling.
From a technical perspective, basic barbering programs will teach hair cutting, shaving, hair color, hygiene and the basis of customer service. However, those core competencies are only the beginning. For more than a decade male grooming has been moving. Today's barbering courses include education on a variety of esthetic services, nail care and spa services. To coin a phrase from an iconic American automobile advertising campaign, today's barbering schools are not your father's barbering schools.
Academy Preparation
A school should prepare students to sit for the state exam, when it comes to how to become a barber, much more is involved. During the barbering program, students will learn both the theory of barbering as well as engage in hands-on training. Students will learn to work with a variety of different barbering tools and use different techniques to achieve varying looks. They'll learn about different types of hair growth, emerging trends, and how to deal with challenges that continually arise – cowlick, anyone? Then there are the non-negotiable basics like ensuring that a clean and hygienic environment is maintained.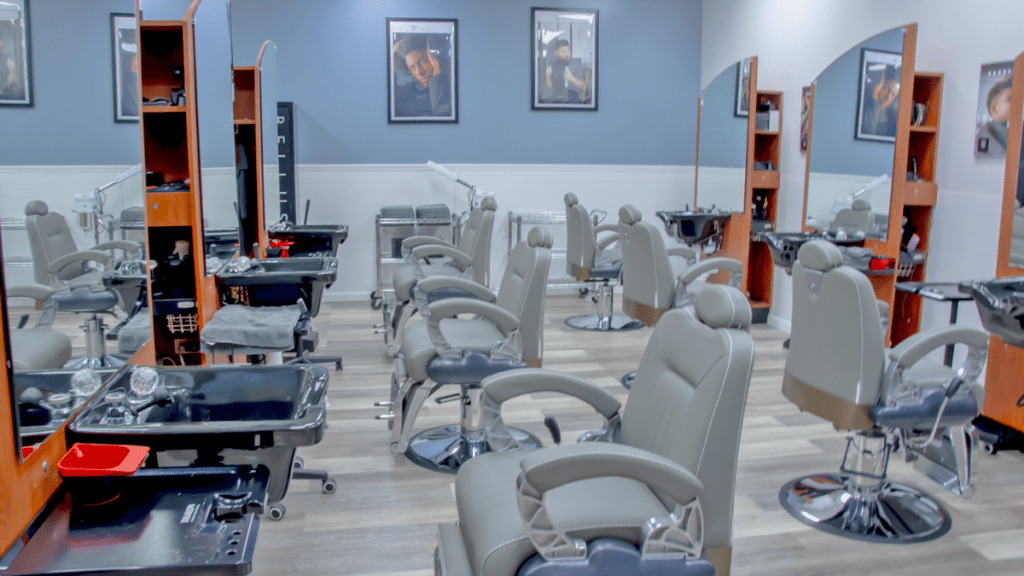 When selecting a barbering school, students should ask about the educators who teach the program. What awards and distinctions have they received? Students should also inquire about the opportunity to practice their craft as they study how to become a barber. For example, does the school offer an opportunity to participate in barbering battles or competitions? Does the faculty help students develop a marketing plan, learn to craft social media content and market their business?
When to Start a Barbering Career
It's never too early to begin thinking about how to differentiate one's career. Many barbering students aim to "diversify" their education by completing a cosmetology program at the same time. This dual licensure can provide even more opportunities. Especially for graduates who seek to offer both barbering and traditional hairstyling or esthetic services. For example, students enrolled in Bellus Academy's program that leads to dual licensure receive extensive training. Training consists of gentlemen's grooming, signature haircuts, hair extensions hair removal, skin care, facials and nail care. The program also includes business fundamentals including retailing, selling and budgeting.
Once the educational program is completed to satisfaction, it's time to take the state board exam. Passing the board exam is necessary to secure the requisite licenses required by the State. Typically, students will take an exam that tests both theoretical knowledge as well as practical technique. The state tests tend to cover "basic" topics. This includes proper sanitation and hygiene, as well as hair cutting and styling techniques. Students will also be evaluated to assess their knowledge of shaving procedures and ability to properly use various barbering tools. In addition to reviewing course materials, students will want to practice their hands-on skills prior to the exam. Various study guides and test prep resources may also be accessed.
Opportunities with Apprenticeship Positions
Beyond classroom instruction, students should be open to opportunities to learn in the "real world" environment.
For example, serving as an apprenticeship. An apprentice position can provide "real world" insight into the day-to-day operations of a barbershop. An apprentice may be called on to assist the experienced barber. They gradually assume positions of increasing responsibility within the shop.
Building a portfolio is an essential part of launching a barbering career. Today's technology makes it easy to snap photos, post work and begin building a clientele early in a career.
Given that the path to becoming a barber begins with education, finances must be considered. Fortunately, there are several paths for paying for school as students pursue their dream of how to become a barber. Scholarships available through Beauty Changes Lives offer tuition scholarships. Beauty Changes Lives even provide tips to help students' scholarships stand out in the crowd.
Federal student aid and private loans are additional options to explore.
A Bright Future for Barbering
What does the future hold for tomorrow's barbers? As interest in the link between grooming and wellness grows, barbershops may expand their services to offer a broader service menu including skincare, beard care, and product lines focused on men's grooming. Like all segments of the economy, barbershops will look for opportunities to be more sustainable; integrating eco-friendly products, increasing recycling and other sustainability practices and seeking out products that reduce their carbon footprint.
As individuals explore how to become a barber in a more diverse and inclusive society, differentiation will be an important strategy. Barbers who personalize and customize their services will introduce bespoke services tailored to clients' needs. These services may include personalized consultations and grooming solutions curated to the needs of the client.
While barbering cannot be outsourced to technology, expect the integration of digital services to take on a bigger role in tomorrow's barbering environment. Some examples of technology in the barbering space include digital consultations, virtual hairstyle and beard simulations and mobile, on-demand appointments. And with a nod toward inclusivity, barbershops will continue to be at the forefront of businesses. They provide a welcoming environment for people of all backgrounds, genders and hair types/textures.
Inclusivity is also likely to lead to an increase in collaboration between barbershops, salons and spas in the future. Service menus will offer a range of services that transcend traditional gender or cultural offerings.
Celebrity barbers remain a small but vibrant element of the barbering scene. For example, A Rod the Barber, @arod23pr  has grown a huge social media presence showcasing his work with high-profile clients. Sofie Pok, @staygold31  has developed a following who appreciate her creativity and signature clips, along with her efforts to support barber education.
Success Spotlight: Lady Barber Wins It All
Professional beauty's loveliest evening was made even more beautiful on April 16, 2023 when celebrity hairstylists Ted Gibson and Jason Backe, founders of the Worth-Up movement awarded the inaugural Dream Capital awards during the 11th annual Beauty Changes Lives Experience. American Salon magazine recently posted about the latest success of Sabra Clark, founder of the SoCal Lady Barbers event, owner of Straight to the Cut barbering studio and an educator at Bellus Academy. Following a pitch competition to celebrity judges, Sabra was presented with a $10,000 check onstage by Gibson and Backe.
Sabra was among five finalists invited to Chicago to participate in a pitch competition with Gibson and Backe heading the judging panel. While winning the award was a dream come true for Clark, an even bigger dream was meeting celebrity hairstylist Ted Gibson. "Watching What Not to Wear I was mesmerized by Ted's consultations with clients – how he cared for each and every person who sat in his chair and I wanted to be just like him when," said Clark. "Meeting Ted Gibson was like meeting Elton John, Aretha Franklin or Whitney Houston – like them, he's someone who changed the game. And Ted and Jason together are the perfect sushi roll of sparkle and awesome!"
Beauty Changes Lives
The Beauty Changes Lives Experience has emerged as a platform for empowering next gen talent and spotlighting beauty as a first-choice career. "When I started barbering 17 years ago, there were no scholarships and the mentorship, support and esteem for this career just weren't there," said Sabra. "Today, barbering and hairstyling are first choice careers and we're more than people who cut hair. We're therapists, coaches, and changers of lives."
Gibson and Backe founded Worth Up in 2021 to help beauty and wellness professionals "worth up" in their industry. Gibson, a star on the Blowing LA series, noted, "Equipping and empowering future hairstylists to own their worth is at the heart of what Jason and I seek to achieve with Worth-Up and is the mission of Beauty Changes Lives, so it was a natural fit."
Sabra will invest the Dream Capital to elevate SoCal Lady Barber events. "I want to help lady barbers level up and take their place in the industry," she said.
Next Steps
Ready to take the next step on your barbering journey? Reach out to a dedicated Bellus Academy career support specialist to find out how Bellus Academy can help you turn your barbering dream into a rewarding career.