I Changed With Bellus: Ashley Veitch
An education in beauty can change your life forever. Just ask a few of our current students and alumni! We want to give them the chance to talk about how Bellus Academy changed their lives for the better and what it would have been like if they hadn't changed their careers.
This is Ashley Veitch, and she changed with Bellus.
Before and After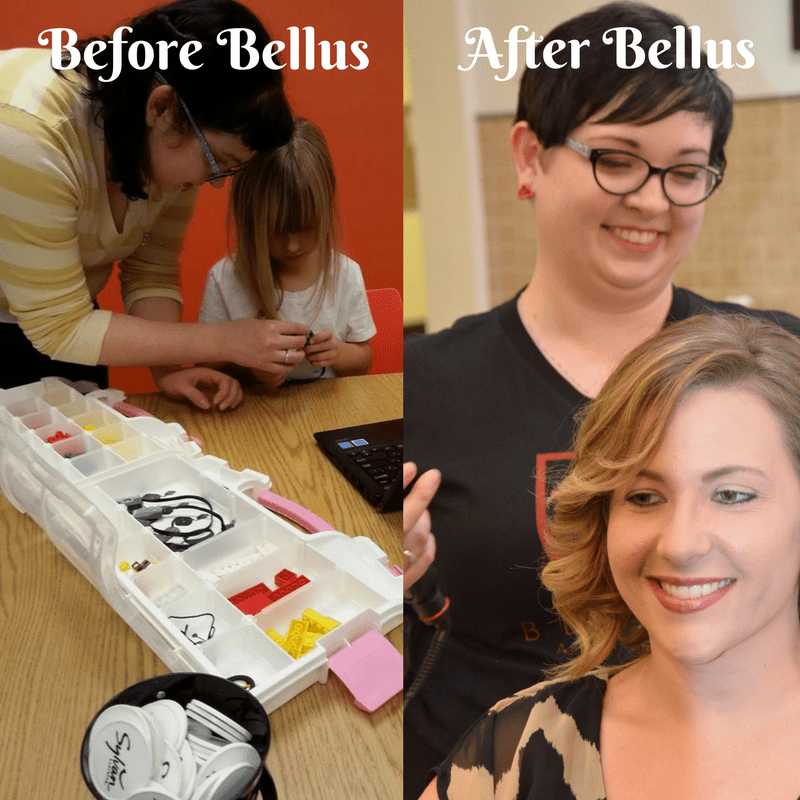 Q&A With Ashley
We had the chance to interview Ashley and get to know her a little better. This is what she said:
Question: What profession did you have before Bellus?
Answer: Before I came to Bellus I worked in the education field. [For two years] I was a resource teacher for students who were diagnosed with Autism. Then, I became a director at Sylvan Learning center of Manhattan, where I worked for two years.
Q: What made you change to the beauty industry?
A: I began to feel burnt out and overstretched in the education field. I chose to go into the beauty industry because I have always loved working with people to improve their lives. I also wanted a career that would allow me to manage my schedule so that I can spend more time with my own children in the future.
Q: Why did you choose Bellus?
A: I chose Bellus because I loved everything that I'd heard about it. My co-director's daughter attended Bellus while we were working together. I saw how Bellus helped her finish the program when she was in a bad situation left by another cosmetology school. I also saw how quick the team was to handle any problems she had during her time at Bellus. I came to take a tour of the school and fell in love with the atmosphere. Every person I spoke to went out of their way to make me feel welcome and important. My tour, combined with the experiences of my friend, gave me the confidence to leave my career and return to school for a new career.
If you never try to pursue your dreams, you'll never know what you could have achieved. We are so proud of Ashley taking the leap and making a huge change in her life. We know that changing careers and going back to school can be hard, but we hope to show those who want to make the change that it is worth it in the end.
Q: What's your favorite part of your new profession?
A: I love the way that the services I provide make me feel as great as my clients! I truly enjoy making my clients feel relaxed and beautiful.
Q: What's your favorite part of the beauty industry?
A: My favorite part of the beauty industry is the opportunity we have to improve the lives of others.
Q: Who inspires you?
A: It's hard to name the people who inspire because I look for inspiration in the people around me every day. One person who has inspired me most is my dad. I have watched him over the years as he has worked his way through law enforcement without the aid of a college education. He has always stood by his commitment to integrity, and it has served him well. Even as he went through treatment for cancer, he continued to support his employees until he could return. Despite his commitment to his work, he always put our family first.
Q: What are your future/career goals?
A: I would like to spend a few years working in a full service salon, but I could see myself teaching in a cosmetology school in the future.
The beauty industry can provide a variety of career opportunities. Your future career depends entirely on your license, passion, and work ethic. Some cosmetologists choose to stay behind the chair, some want to own their own business, and some want to become educators. We think Ashley would be a fantastic beauty school instructor in the future!
Q: What do you think your life would have been like if you hadn't started at Bellus?
A: I would still be working forty plus hours every week making money for someone else. Much of my day would be stressful, and my days would be long. I also would not have been able to be close to my family during some very stressful times during the past year.
Thank You Ashley
Ashley, you inspire us. Thank you for sharing your story about how your life and future changed with Bellus Academy.
Change Your Life With Bellus Academy
Are you ready to welcome a change to your life? Get info about our Cosmetology programs. They are offered in California and Kansas. Contact us to get info about how to get enrolled today!
Read another inspiring story of a student who changed with Bellus.