Beauty Quiz: How Much Do You Know About Beauty School?
How much do you really know about beauty school? From college credits and scholarships to externships and international credentials, beauty school is evolving at Bellus Academy. Take the following quiz – the answers to the 5 questions below might surprise and inspire you!
True or False:
1. Beauty school doesn't count toward college credits
False: Depending on the course of study, Bellus Academy credits may qualify for college credit. Bellus Academy has partnered with National American University to offer discounted credit hours and credit sharing toward an associate degree. As an online university, North American University provides quality education in associates, bachelors, masters and doctoral programs. Bellus graduates can take advantage of a credit hour discount of 25% and can transfer various credit options form Bellus Academy certificates.
2. Scholarships are available for cosmetology programs, skincare, nails and more.
True. In addition to scholarships and tuition discounts offered by Bellus Academy, students can also apply for scholarships offered by Beauty Changes Lives– a 501c3 founded by Bellus Academy President Lynelle Lynch. Since 2013, Beauty Changes Lives has awarded more than 500 scholarships to students enrolled in various beauty and wellness programs including barbering, cosmetology, esthetics, make-up artistry, massage therapy and nails.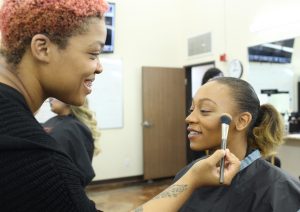 3. Beauty schools are partnered with a specific brand.
Not always. Bellus Academy partners with several of the industry's most esteemed brands in hair, nails and skincare. Familiarity with a breadth of products allows stylists to learn about different brands' formulations and philosophies.
4. Beauty school licensure can open up doors to international careers.
True. Bellus Academy partners with credentials and organizations such as CIDESCO USA and IFIC. Depending upon the credential, certificate and diploma holders can work in dozens of countries and hold a widely recognized credential/standard.
5. Beauty school education is limited to the classroom.
False. At Bellus Academy, the curriculum and theoretical instruction in the classroom are complemented by "real world" experiences including externships, field trips, competitions and mentoring experiences. The goals is to expose students to the many different pathways available to a licensed professionals.