What is Cosmetology?
Have a passion for makeup? Do you love helping others with their nails? Are you always following the latest hair trends? If you're someone who loves the beauty industry and wants to pursue beauty as a career, becoming a cosmetologist may be the career for you!
What is Cosmetology?
You might be wondering, if I'm interested in entering the beauty industry, why should I choose to study cosmetology? Also, what do cosmetologists do? Cosmetologists learn how to beautify hair, skin and nails, which means that a licensed cosmetologist can provide a wide range of services in the beauty industry. These services range from haircuts to facials to manicures, depending on the beauty school and the state. The emphasis with cosmetology, however, is on hair!
What do Cosmetologists Actually Do?
One of the best parts of becoming a cosmetologist is the broad range of skills you can learn. If you're someone who's passionate about hair, you can become a hairstylist as a cosmetologist. If you only want to focus on nails, you can become a cosmetologist who can provide manicures and pedicures. In fact, a cosmetologist may be the one behind the latest makeup trend or could be the one helping you achieve beautifully colored hair at your next hair appointment. Here are just a few of the services licensed cosmetologists can provide.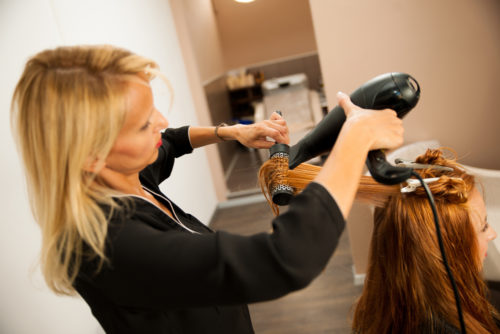 Hair Services
Have you ever dreamed of becoming a hair stylist? Looking to learn how to achieve the perfect curls? Maybe you want to know how to determine which hair color suits you best. Working towards becoming a cosmetologist is a great first step. Some services a cosmetologist could learn how to do are:
Haircuts
Hairstyles
Perms
Chemical Treatments
Shampooing
Hair Straightening
Bleaching
Coloring
Skin Services
Helping others achieve beautiful, glowing skin is also something a cosmetologist can do. Would you rather focus on skin care and how to achieve glowing skin for your clients? You can work towards becoming an esthetician, but licensed cosmetologists can also apply:
Facials
Makeup
Waxing
Tweezing
Nail Services
Do you love the appearance of freshly manicured nails? Do you want to know how to apply them yourself? Licensed cosmetologists can do:
Manicures
Pedicures
Gel Nails
Acrylic Nails
Silk Nails
How to Become a Cosmetologist
Does this sound like something you would be interested in learning? If you don't know where to start, here are a few of the starting steps:
Go to School
Enroll in a cosmetology program to start your journey towards becoming a licensed cosmetologist. At a cosmetology school, you could to learn how to beautify someone's hair, skin, and nails and also learn business best practices and gain real-world experience.
Sit for the State Board
Once you complete the required coursework for the cosmetology program, you'll need to sit for the state board. This will test the knowledge you learned at school to make sure you are ready to start your career as a cosmetologist.
Apply for a Cosmetologist License
This step is unique for every state, but you'll need to apply for a cosmetologist license before you start your new career. This license is important because it allows you to provide hair, skin, and nail services for actual clients.
Where to go Next
Once you've obtained your cosmetology license, it's time to find a career. As a cosmetologist, you can work in hair salons, as makeup artists, or even as your own boss. Your career path is up to you! If you want to start on your path toward becoming a cosmetologist, check out our cosmetology program to get started!