Lead Educator, Bellus Academy and 2020 ACA School Instructor of the Year Finalist
An old Russian proverb says, "Learning is light, and absence of learning is darkness." Born in Russia and immigrating to the U.S. 19 years ago, Larissa Harbert brings the light of learning into Bellus Academy's esthetics classroom as she Lead Esthetics Educator.
Her efforts as an educator and inspirer of career paths is not without notice. Dermascope magazine has selected Larissa as a finalist for its 2020 ACA awards in the school instructor category. Voting runs through November 30, 2019. Below, Larissa remarks on her career path, the people who have inspired her journey, and why she loves not only educating students, but being a lifelong learner.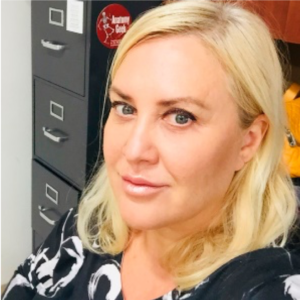 How long have you been an esthetician?
I studied esthetics in Moscow, Russia, 30 years ago. I've been licensed by the State of California for 19 years. I've been an educator at Bellus Academy for 14 years.
How has esthetics evolved since you began your career journey?
Technology has transformed the industry in so many ways. Treatments like the HydraFacial and all of the advanced peels mean people can have beautiful skin without undergoing surgery or invasive procedures. Products are also more sophisticated and beauty and wellness are increasingly connected. In the last few years, eyelash extensions have surged as a treatment. Literally, in the blink of an eye – an hour – a client's lash extensions can dramatically change how she looks.
But what hasn't changed is the need for education and staying up to date on the latest advances.
What are some things you love about being an esthetics educator?
I love remaining a student even as I teach my students. My job is never boring. There are always new students, clients with skincare goals, new challenges and new products and technologies. My students keep me challenged. Being an educator means I can never rest on my laurels. I have to be bringing the newest advances into the classroom.
How has your training in Russia influenced your work in the classroom?
That's another thing I love about being an educator! I get an opportunity to bring the European craftsmanship of esthetics into the classroom. I love passing on the European traditions and approach to skincare to my students. There is a huge love of the craft – of the Euro-approach to skincare, that Bellus Academy students get to experience. I'm honored to pass the tradition on to a new generation of estheticians here in America.
How have mentors influenced your career?
My teachers in Russia emphasized determination and the importance of repetition to perfect a skill. After moving to America, I met Joanne Berry, a huge influencer in the spa community, and she was so kind to open up doors for me within the spa community. She showed me the power of connections and communicating with others throughout the industry – not something that was always easy as I didn't start out with fluent English skills. Joanne was so very generous. And finally, Bellus Academy owner Lynelle Lynch constantly teaches me what it means to be a visionary. Lynelle shows me every day that we are not just educating students, we are training the future.
What advice do you give new esthetic students just beginning their journey?
Take pride in your craft and commit to doing your best each and every day. Keep your mind open to all of the possibilities there are to enjoy your career in esthetics. If you see an area of your work that you enjoy, perfect that skill set and become a master at it. Explore all this industry has to offer! It's so important to keep an open mind. When I entered esthetics 30 years ago, I never imagined all of the advanced ingredients and treatments that exist today – from super-effective products to laser treatments and so much more.
What is one piece of skincare advice you'll share with readers?
Two things: Sunscreen every day and retinol every night!
You can cast your vote for Larissa as the 2020 ACA School Instructor of the Year through November 30, 2019.