Our award winning curriculum is one of the few to combine foundational knowledge with advanced technical training in cut, color and extensions.
Bellus Academy offers cosmetology programs at our California campuses in Poway, Chula Vista, and El Cajon along with our Manhattan, Kansas campus. Our education combines theoretical instruction and hands-on training. Each of our programs are tailored to meet state-specific requirements while emphasizing technique, artistry, and the latest industry trends!
Programs Available
Cosmetology - California
1600 Hours | 11 months
Our 1600-hour program offers an exclusive curriculum that goes beyond state board with 1 month of each discipline, cut, color and hair extension training.
Available at the following location(s)
Chula Vista, CA
El Cajon, CA
Poway, CA
Manhattan, KS
Cosmetology - Kansas
1500 Hours | 10 months
With 1500 hours of visual, verbal, written, and hands-on instruction in the Bellus Cutting and Color System, students will learn core scientific concepts in hair, skin, and nail care, physical services, hair coloring, chemical waving and relaxing, and hair design.
Available at the following location(s)
Chula Vista, CA
El Cajon, CA
Poway, CA
Manhattan, KS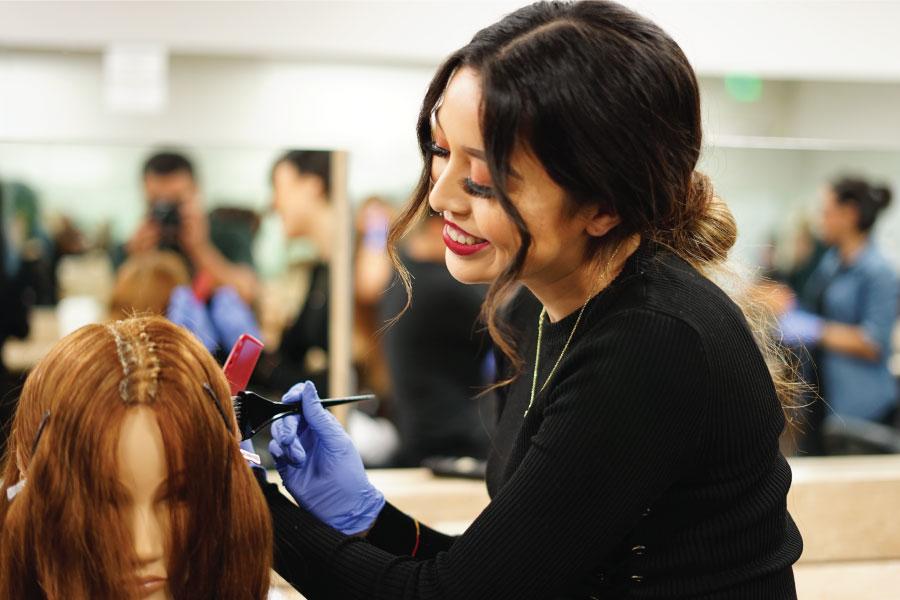 Gain Industry Experience
Develop your technical skills through hands-on training
Receive high-quality tools and products in your professional student kit
Learn all aspects of Cosmetology – Hair, Skin Care & Nails
Receive training by award-winning industry professionals
Work with our top partner brands and master the latest trends
Utilize the latest technology and expand your product knowledge
Work 1:1 with clients in our professional salon floor
Access our online education portal through a personalized Bellus Academy IPAD
Customize your studies in areas of interest, from hair color to advanced styling techniques
Gain entrepreneurial focused training to launch a thriving business!
Your Future Awaits
When you enroll in a cosmetology program at Bellus Academy you're taking the first steps toward an engaging, creative career with ample opportunity for financial success. To learn more about our day and night programs, contact us online to speak with an admissions representative.